Prieta Mesa Pueblito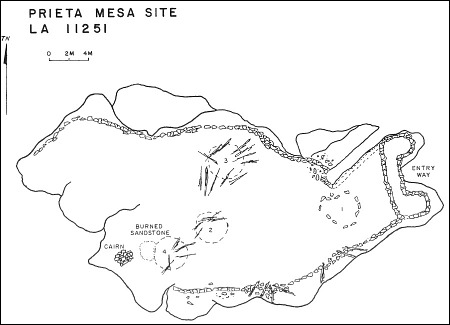 Located at the western most point of Prieta Mesa, this pueblito overlooks the upper eastern benches of Largo Canyon. The pueblito consists of a walled area around the sandstone crag with a probable entry way. During its original recording three possible four collapsed forked-pole hogans were noted within the walled area (Powers and Johnson 1987).
Ceramic Assemblage
: Ceramics documented at the site included only Dinetah Gray.
Tree-ring Analysis
: Samples have been collected from the site but results have not been published.
Land Owner:
Bureau of Land Management
Site Elevation:
6657 ft / 2029 m
Hiking Difficulty:
Very Difficult =
Someone in excellent hiking condition;
Distance about 1/2 mile;
Elevation gain greater than 200 feet, requires scaling two talus slopes.
References:
Powers, Margaret A. and Byron P. Johnson 1987
Defensive Sites of Dinetah. New Mexico Bureau of Land Management Cultural Resources Series No. 2, 1987. U.S. Dept of the Interior, Bureau of Land Management, Albuquerque District.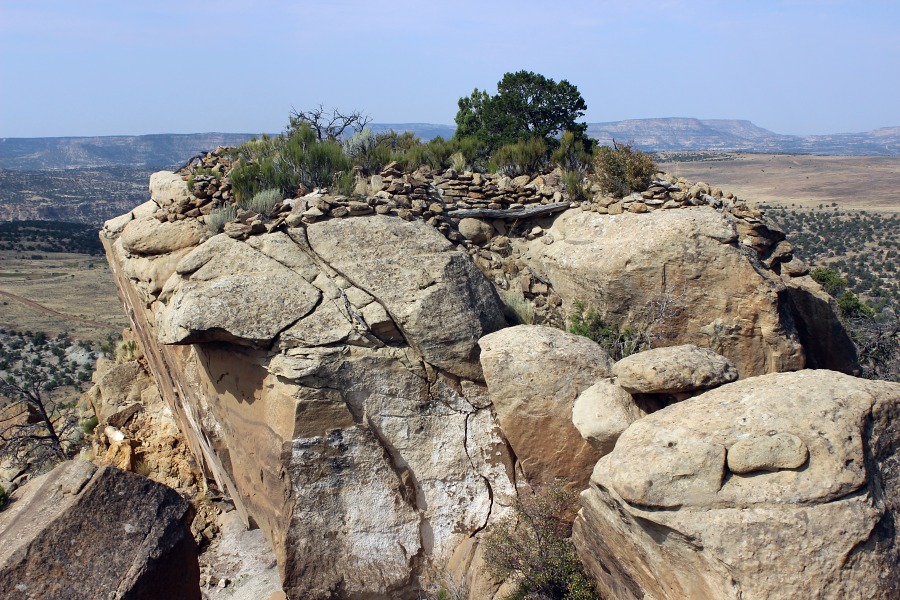 Other Pueblitos
➠ Prieta Mesa Pueblito
State Land Permit Required:
Report Vandalism
Report any vandalism to the Bureau of Land Management hot line at (505) 564-7600.
For in progress incidents, request a BLM Ranger through Non-Emergency Dispatch (505) 334-6622.