Kin Naa Dáá (Maize House) Pueblito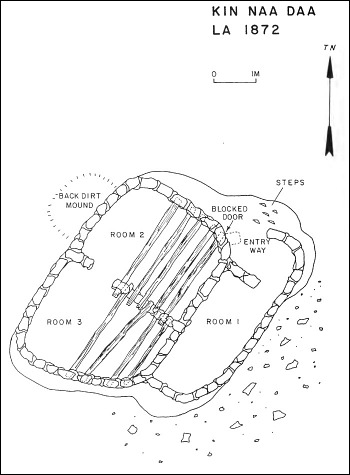 Built on top of a talus boulder overlooking a tributary drainage, this small pueblito consists of three lower rooms. The name of this site is Navajo for "Maize House" which refers to the maize found in a storage area at the base of the boulder. Originally the pueblito was built as a two room structure with second story rooms (total of four rooms). Later the original entry was blocked and a narrow entry passage was constructed along the southeast side (Powers and Johnson 1987). A set of carved hand and foot holds on the north side of the boulder lead up to the entrance of the pueblito.
Ceramic Assemblage
: Ceramics previously identified include Dinetah Gray, Gobernador Polychrome, Payupki (Hopi) Polychrome, and Ashiwi (Zuni Pueblo) Polychrome.
Tree-ring Analysis
: Sixteen samples were collected from the pueblito. Pinyon and juniper was used and evidence of metal ax use was found on almost every sample. Date clustering of samples indicate that the pueblito was constructed in 1727 (Towner 2003).
Land Owner:
Bureau of Land Management
Site Elevation:
6500 ft / 1981 m
Hiking Difficulty:
Very Difficult =
Someone in excellent hiking condition;
Distance less than 1,500 feet;
Elevation gain > 300 feet.
References:
Powers, Margaret A. and Byron P. Johnson 1987
Defensive Sites of Dinetah. New Mexico Bureau of Land Management Cultural Resources Series No. 2, 1987. U.S. Dept of the Interior, Bureau of Land Management, Albuquerque District.
Towner, Ronald H. 2003
Defending the Dinetah: Pueblitos in the Ancestral Navajo Heartland. The University of Utah Press, Salt Lake City, Utah.
Other Pueblitos
➠ Kin Naa Dáá Pueblito
State Land Permit Required:
Report Vandalism
Report any vandalism to the Bureau of Land Management hot line at (505) 564-7600.
For in progress incidents, request a BLM Ranger through Non-Emergency Dispatch (505) 334-6622.