Old Fort Pueblito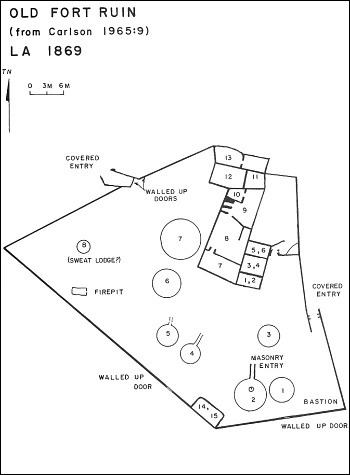 Situated on the edge of a bench overlooking San Rafael Canyon, this pueblito is one of the largest of the Gobernador Phase and most complex Dinetah pueblitos (Towner 2003).
The site consists of two roomblocks of 12 ground floors with at least four rooms having second stories and eight forked-pole hogans of which one still remains standing. Surrounding these structures was a defensive compound masonry wall of 2 meter height which three doorways and two hatched entry ways once existed. The doorways are not as apparent as once before however the passageways from below the bench are still visible (Powers and Johnson 1987).
Ceramic Assemblage
: Ceramics identified from the site include Dinetah Gray, Gobernador, Ashiwi and Hawikuh (Zuni Pueblo), Puname (Zia Pueblo), Tewa (Northern Rio Grande Pueblos), and Puyapki (Hopi) polychromes, Jemez Black-on-white, Rio Grande Glaze VI, and Galisteo Glaze IV wares (Towner 2003).
Tree-ring Analysis
: Some 80 tree-ring samples have been collected over a period of 80 years by various researchers. Wood species are represented by juniper, pinyon, Douglas-fir and Ponderosa pine. In addition, metal ax modifications were observed on a number of samples. Dates obtained from the samples suggest that the central complex of the pueblito was initially constructed in 1746. The covered passageways were likely completed by 1750 and the last episode of construction occurred in 1753. As such, it is likely that the site was occupied for less than 10 years (Towner 2003).
Land Owner:
State of New Mexico
➠ Create an Account for Recreational Access Form
Site Elevation:
6700 ft / 2042 m
Hiking Difficulty:
Very Difficult =
Someone in excellent hiking condition;
Distance less than 1/2 mile;
Elevation gain greater than 100 feet, requires scaling a talus slope.
References:
Powers, Margaret A. and Byron P. Johnson 1987
Defensive Sites of Dinetah. New Mexico Bureau of Land Management Cultural Resources Series No. 2, 1987. U.S. Dept of the Interior, Bureau of Land Management, Albuquerque District.
Towner, Ronald H. 2003
Defending the Dinetah: Pueblitos in the Ancestral Navajo Heartland. The University of Utah Press, Salt Lake City, Utah.
Other Pueblitos
State Land Permit Required:
➠ Old Fort Pueblito
Report Vandalism
Report any vandalism to the State Land Office at (505) 326-5716.