Rincon Rockshelter Pueblito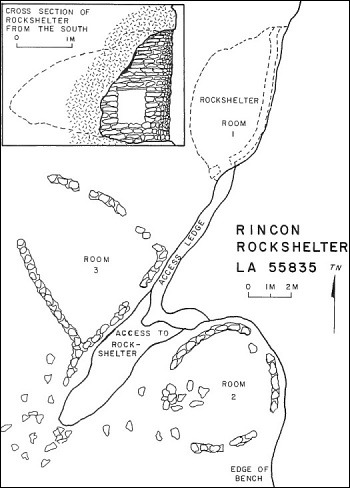 Rincon Rockshelter Pueblito is located at the head of a small rincon to Carrizo Canyon. The site consists of two masonry structures (Rooms 2 and 3) on the mesa edge and rockshelter (Room 1) midway down the cliff face (Powers and Johnson 1987).
Ceramic Assemblage
: Ceramics identified at the site included Dinetah Gray and Gobernador Polychrome (Towner 1987).
Tree-ring Analysis
: No samples were obtainable from the surface masonry structures. However, five tree-ring samples were collected from the doorway lintel of the rock shelter. The lintel beams were made of pinon and metal ax use was noted on one lintel where the end of the log was visible. Results from the doorway lintel samples indicate that the rockshelter was built in 1713 (Towner 1997).
Land Owner:
Bureau of Land Management
Site Elevation:
6408 ft / 1953 m
Hiking Difficulty:
Difficult (from valley floor) =
Someone in excellent hiking condition;
Distance less than 0.25 mile (one-way);
Elevation gain 200 feet.
References:
Powers, Margaret A. and Byron P. Johnson 1987
Defensive Sites of Dinetah. New Mexico Bureau of Land Management Cultural Resources Series No. 2, 1987. U.S. Dept of the Interior, Bureau of Land Management, Albuquerque District.
Towner, Ronald H. 1997
The Dendrochronology of the Navajo Pueblitos of Dinetah, PhD dissertation, University of Arizona.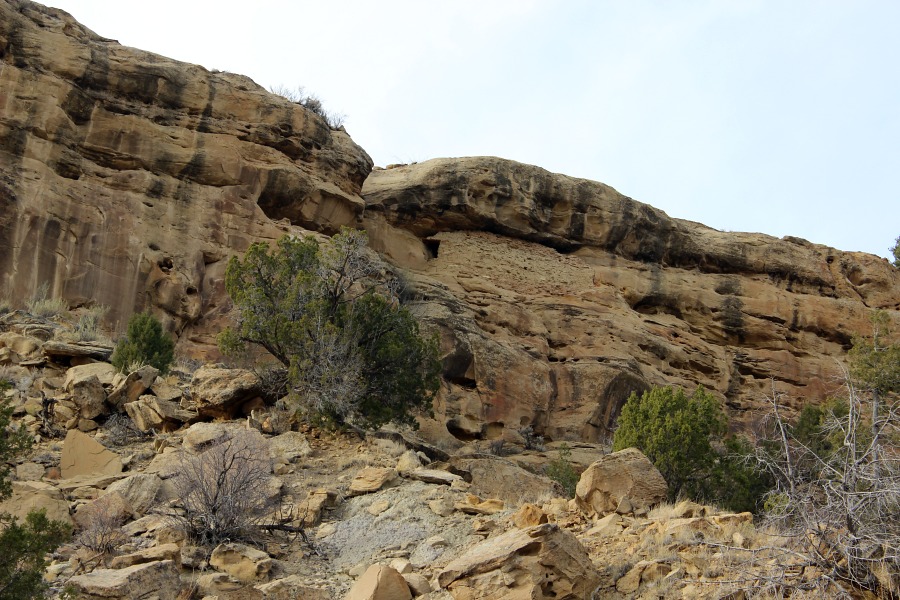 Other Pueblitos
➠ Rincon Rockshelter
State Land Permit Required:
Report Vandalism
Report any vandalism to the Bureau of Land Management hot line at (505) 564-7600.
For in progress incidents, request a BLM Ranger through Non-Emergency Dispatch (505) 334-6622.