Ridge Top House Pueblito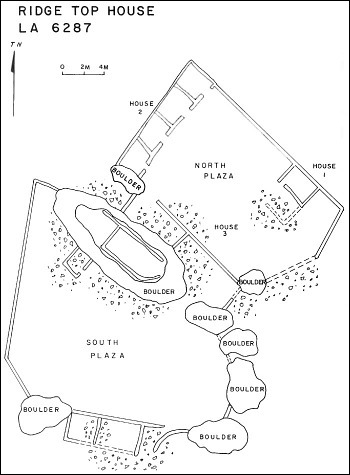 This pueblito is on the northern edge of a ridge which is south of Crow Canyon. The site is a relatively large complex which consists of the remnants of a masonry structure on top of a sandstone outcrop, several masonry structures built against the sandstone outcrop, and an outer defensive wall which encloses a plaza area north and south of the sandstone outcrop. Outlines of 10 ground-floor rooms have been identified and built as part of the outer walls (Powers and Johnson 1987).
Ceramic Assemblage
: Ceramics identified include Dinetah Gray and Gobernador Polychrome. A single sherd of Zuni origin was also documented (Towner 1997).
Tree-ring Analysis
: Only seven tree-ring samples were recovered from the site. Wood species included juniper and pinyon and all samples showed modifications by metal ax. Though no cutting dates were found, the slight clustering of dates suggest that the site was occupied around 1720 (Towner 1997).
Land Owner:
Bureau of Land Management
Site Elevation:
6742 ft / 2054 m
Hiking Difficulty:
Easy =
Someone in fair hiking condition;
Distance less than 700 feet;
Elevation gain less than 20 feet.
References:
Powers, Margaret A. and Byron P. Johnson 1987
Defensive Sites of Dinetah. New Mexico Bureau of Land Management Cultural Resources Series No. 2, 1987. U.S. Dept of the Interior, Bureau of Land Management, Albuquerque District.
Towner, Ronald H. 1997
The Dendrochronology of the Navajo Pueblitos of Dinetah, PhD dissertation, University of Arizona.
Other Pueblitos
➠ Ridge Top House Pueblito
State Land Permit Required:
Report Vandalism
Report any vandalism to the Bureau of Land Management hot line at (505) 564-7600.
For in progress incidents, request a BLM Ranger through Non-Emergency Dispatch (505) 334-6622.