Kin Wólá Jíní (Black Ant House) Pueblito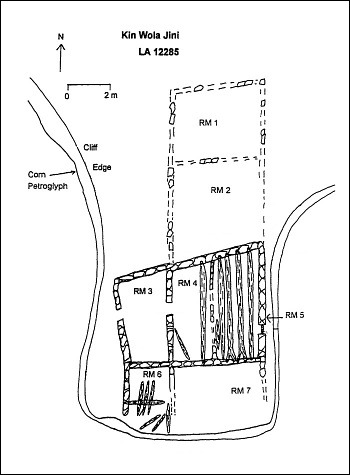 Built on the edge of a bench overlooking a tributary drainage to Cereza Canyon, this pueblito consists of seven rooms. The name of this site is Navajo for "Black Ant House." The pueblito was built in one or possibly two construction episodes, with Rooms 1 and 2 possibly later in the season or year (Towner 2003).
Ceramic Assemblage
: Ceramics identified in the field included Dinetah Gray and Gobernador Polychrome (Towner 2003).
Tree-ring Analysis
: Fifteen samples were collected from the pueblito. All samples were pinyon and with the exception of one loose log within Room 6, all samples showed evidence of metal ax use. Date clustering of samples indicate that the pueblito was constructed in 1712 (Towner 2003).
Land Owner:
Reported to be on BLM, but mapping within GIS indicates Private
Site Elevation:
6797 ft / 2071 m
Hiking Difficulty:
Easy =
Someone in fair hiking condition;
Distance less than 100 feet;
Elevation gain < 20 feet.
References:
Towner, Ronald H. 2003
Defending the Dinetah: Pueblitos in the Ancestral Navajo Heartland. The University of Utah Press, Salt Lake City, Utah.
Other Pueblitos
➠ Kin Wólá Jíní Pueblito
State Land Permit Required:
Report Vandalism
---
Report any vandalism to the Bureau of Land Management hot line at (505) 564-7600.
For in progress incidents, request a BLM Ranger through Non-Emergency Dispatch (505) 334-6622.