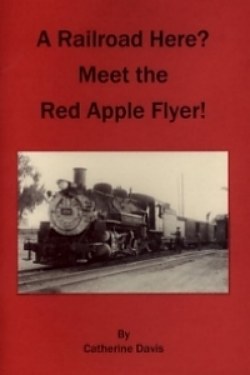 Railroads opened up the west. They not only brought workers in to build the railroad, but also their supplies and food. Then they brought in miners, settlers, businessmen, equipment and supplies to keep these settlements going. Even though this county was opened up for settlement in 1876, it did not bring the railroad with it. Our neighbor to the north had many narrow gauge lines crossing the southwestern part of Colorado providing access to the gold and silver mines in that area.
By the early 1890s, this area was already in need of a railroad. Cattle, horses and sheep had to be driven from here to the railroad in Gallup for markets back east. Fruit produced in San Juan County greatly accentuated the need for growers to be able to get their crops to a larger market sooner instead of hauling them to market by horse and wagon. These markets were limited to Durango, Gallup or Albuquerque. Even the trip to Durango required several days.
Author: Catherine Davis
Publisher:
San Juan County Historical Society
Published: 2005
For Sale: $10 (includes tax)
To Order: (888) 543-4629 (Toll Free) or 334-9551 (Local)
In this Book...
Other History Books for Sale
➠ A Railroad Here
More History & Information
Share this page