Simon Canyon Area of Critical Environmental Concern (ACEC) is about 3,900 acres in size and is managed for semi-primitive forms of recreation including fishing, hiking, backpacking, and wildlife watching. A graveled parking area, group shelter, large grill, fire ring, picnic table and vault toilet are located at the mouth of Simon Canyon. No electrical hookups or drinking water is available.
The diverse canyon landscape provides habitat for a variety of bird and mammal species such as the golden eagle, prairie falcon, great horned owl, porcupine, beaver, and deer. Local sportsmen and fishing enthusiasts from across the United States come to fish the
Quality Waters of the San Juan River
, including the stretch that flows past the mouth of Simon Canyon. Narrow trails winding along the river's edge will lead you to your favorite fishing spot.
Archaeology
The canyon also contains remnants of an earlier human occupation.
Simon Canyon Pueblito
, a Navajo Pueblito that sits on a bench overlooking the canyon drainage. In addition, several minor arches can be found within the canyon.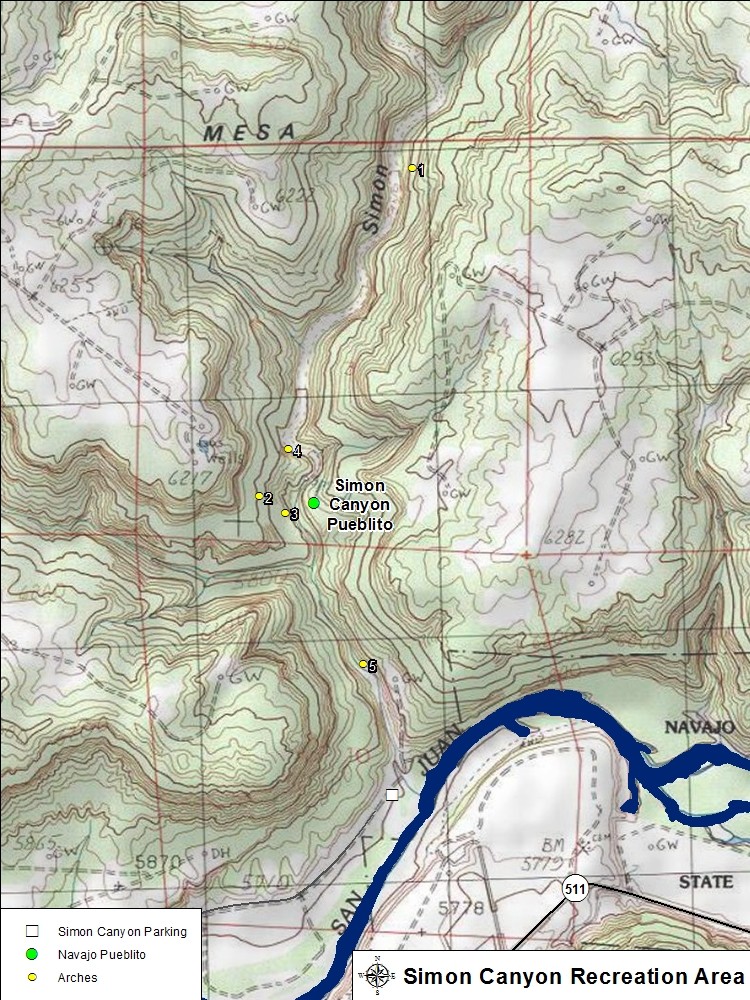 Report Vandalism
Report any vandalism to the Bureau of Land Management (BLM) hot line at (505) 564-7600.