The 4.25 miles (6.84 km) of San Juan River just below
Navajo Dam/Lake
is among the most hallowed trout fishing waters in North America and is ranked a USA Top-10 Fly Fishing Destination. Water released from the bottom of the dam is stable, clear, cold and rich in nutrients. The abundant flora creates an ideal environment for insect proliferation, which in turn supports one of America's most prolific river trout populations, both in terms of quantity and size.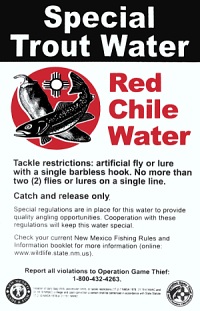 Downstream from the dam is a 3.75-mile, Special Trout Water section where only the use of flies and artificial lures with a single barbless hook can be used and all trout caught must be immediately returned to the water. Anglers may only use two flies or lures on a single line. The 3.75-mile Special Trout Water section teems with trophy rainbow and brown trout. Downstream of the Special Trout Water offers year-round bait fishing with statewide bag limits.
Vehicle parking and camping is available along the river. Read the posted signage, and please pack out what you pack in. New Mexico Department of Game and Fish regulations apply.
To report fishing violations or other wildlife crimes, please contact Operation Game Thief at 1-800-432-4263 or
www.wildlife.state.nm.us/enforcement
Directions and Information
Share this page