The Christ of the Mines Shrine is a 12-ton, 16-foot tall statue of Jesus Christ which sits on the foothills of Anvil Mountain, in Silverton, Colorado.
During the 1950's the mining industry in Silverton hit rock bottom, mines were shuttering every where within the San Juan Mountains. In 1958, the idea of a shrine dedicated to the miners was developed.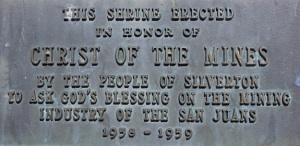 Father Joseph Halloran and a group from the Men's Club walked the slope of Anvil Mountain and decided that the Shrine should be of such size and magnitude that anyone approaching Silverton could readily see it overlooking the town. The alcove of the Shrine was to be of native stone which came from the stone of the Old Fisher Brewery. The statue was to be 12-16 feet tall and made of Carrara Marble imported from Italy. Donations came in to the Catholic Church to help pay for the statue. The statue arrived in the summer of 1959 and was installed upon the pedestal.
A few months after the Shrine was completed, the American Tunnel was started, which provided access into the lower reaches of the Sunnyside Mine. Mining in Silverton once again flourished.
The next addition to the Shrine were the trees behind it. St. Patrick's Parish purchased 1,000 Scotch Pine seedlings and planted them in back of the shrine. Today a mini-forest of Scotch Pines grace the back side of the Shine.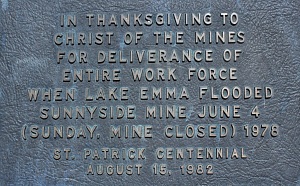 A disaster occurred in 1978 whereby Lake Emma broke through the Sunnyside Mine located beneath the lake. The water flooded through the underground workings and out the lower portal, destroying everything in its path. Fortunately the flooding occurred on a Sunday night when no men were working. Although the mine shut down for a while, no lives were lost due to the flooding.
Silverton's Christ of the Mines Shrine is a constant reminder of the importance of the Mining Industry and especially the miners who worked underground.
Other Silverton sites to see:
➠ Christ of the Mines Shrine