Locally Made Near Aztec

Aztec Farmers' Market
Westside Plaza @ 1409 W. Aztec Blvd
(505) 334-3290
The Aztec Farmers' Market began in 2000 and exists to provide fresh, local, healthy, tasty produce and farm products to all visitors and people in our community while highlighting San Juan County's local agriculture. In turn, visitors and the community support farm families and growers and keeps spending local. We are members of the New Mexico Farmers' Marketing Association, who are dedicated to strengthening local food systems around the state. Open from July to October.
---

Bees of the San Juan
(505) 320-2664
Specializes in Raw Honey, Beeswax, Nuts, and Honeybee Queens. Hives located throughout Farmington, NM.
---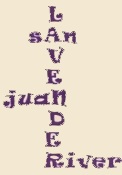 Lavender on the San Juan River
181 NM 511
Blanco, NM 87412
(505) 793-9787
Our Lavender is grown on-site and chemical free. All products are made here by us "just for you."
---

Willow Wicks
8 Road 4410
Turley, New Mexico 87412
(505) 320-0184
➠ willowwicks.com/
Willow Wicks is a quaint candle shop in Turley, New Mexico. Located only 30 minutes from Farmington and neighboring Wines of the San Juan. We strive to provide you with quality soy and paraffin candles that are hand-poured with the premium fragrance.