Authors A - M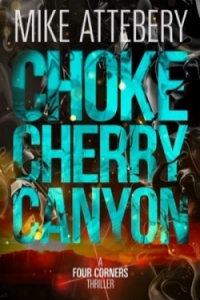 Chokecherry Canyon
by Mike Attebery

When a disgraced businessman is nearly decapitated in a seedy restaurant, the blood trail leads reporter Luke Murphy to a series of dark secrets, concealed for decades in the New Mexico desert.
---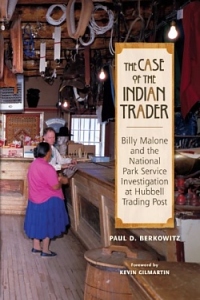 The Case of the Indian Trader
by Paul Berkowitz

This is the story of Billy Gene Malone and the end of an era. Malone lived almost his entire life on the Navajo Reservation working as an Indian trader; the last real Indian trader to operate historic Hubbell Trading Post. In 2004, the National Park Service (NPS) launched an investigation targeting Malone, alleging a long list of crimes that were "similar to Al Capone." In 2005, federal agent Paul Berkowitz was assigned to take over the year- and-a-half-old case. His investigation uncovered serious problems with the original allegations, raising questions about the integrity of his supervisors and colleagues as well as high-level NPS managers.
---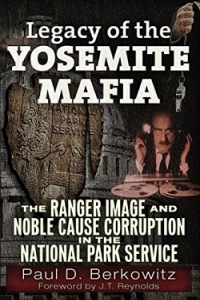 Legacy of the Yosemite Mafia
by Paul Berkowitz

Calling upon his unique experiences as a criminal investigator in the National Park Service (NPS), Berkowitz proves how an over-emphasis on image (the "ranger image") has led to an NPS culture that accepts misconduct. Citing verified news accounts, internal agency documents, and personal notes, this dramatic case study challenges conventional wisdom and official accounts of agency history.
---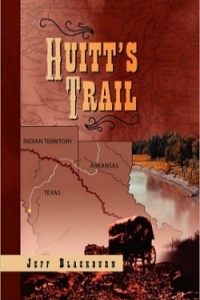 Huitt's Trail
by Jeff Blackburn

Unexpectedly, a loud crash came from the thick undergrowth. The bush parted, and a black charger leapt right into the middle of the make shift camp. Mounted on the back of the snorting animal, was a large man with a dingy boater on his head and a deep scar across his left cheek. In his left hand he held the reins of the well built animal, in the other a Colt revolver.
---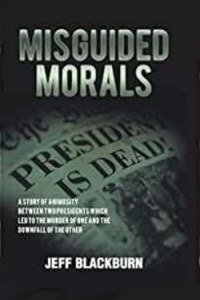 Misguided Morals
by Jeff Blackburn

A story of animosity between two presidents which led to the murder of one and the downfall of the other.
---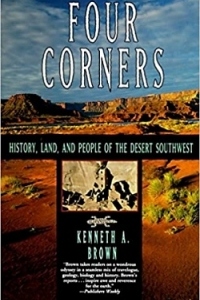 Four Corners: History, Land, and People of the Desert Southwest
by Kenneth A. Brown

Kenneth Brown explores one of the most awe-inspiring regions on earth -- the Four Corners of Colorado, Utah, Arizona and New Mexico. Weaving together its geological, ecological and human histories, he presents a unique portrait of this ruggedly beautiful landscape that goes beyond mere description to give readers a true sense of the land in all its richness.
---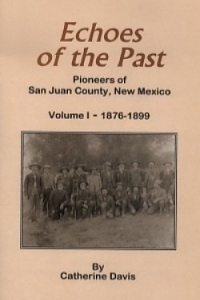 Echoes of the Past: Pioneers of San Juan County, New Mexico
(Three Volume Set)
by Catherine Davis

Part of a three volume series, these books cover the pioneers of San Juan County, New Mexico. It includes more history of families who settle in San Juan County before 1900.
---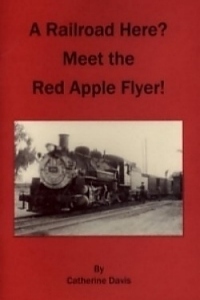 A Railroad Here? Meet the Red Apple Flyer!
by Catherine Davis

Railroads opened up the west. They not only brought workers in to build the railroad, but also their supplies and food. Then they brought in miners, settlers, businessmen, equipment and supplies to keep these settlements going. Even though this county was opened up for settlement in 1876, it did not bring the railroad with it. Our neighbor to the north had many narrow gauge lines crossing the southwestern part of Colorado providing access to the gold and silver mines in that area.
---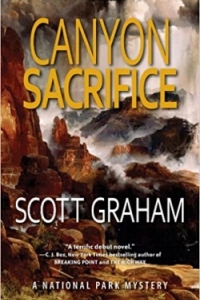 Canyon Sacrifice
(National Park Mystery Series Book 1)
By Scott Graham

Canyon Sacrifice brings the rugged western landscape, the mysterious past of the ancient Anasazi Indians, and the Southwest's ongoing cultural fissures vividly to life. A deadly struggle against murderous kidnappers in Grand Canyon National Park forces archaeologist Chuck Bender to face up to his past as he realizes every parents' worst nightmare: a missing child.
---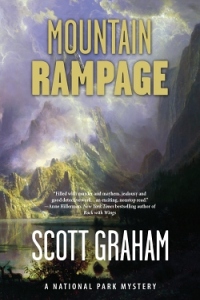 Mountain Rampage
(National Park Mystery Series Book 2)
By Scott Graham

In the riveting second installment of the National Park Mystery Series, archaeologist Chuck Bender finds himself and his young wife and stepdaughters in the crosshairs of an unknown killer when he defends his brother-in-law from false accusations of murder in the brutal slaying of a resort worker in Rocky Mountain National Park.
---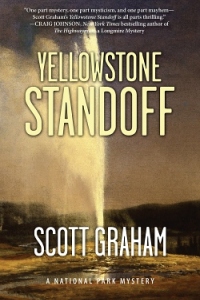 Yellowstone Standoff
(National Park Mystery Series Book 3)
By Scott Graham

Graham's intriguing third National Park Mystery takes archaeologist Chuck Bender to the Thorofare region of Yellowstone. The threatening behavior of the park's predators is worrisome enough, and the discovery of a murdered researcher lifts threats to a whole new level.
---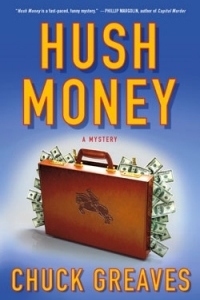 Hush Money
(A Jack MacTaggart Mystery Book 1)
by Chuck Greaves

A newly minted member of Henley & Hargrove, Pasadena's oldest and snobbiest law firm, Jack MacTaggart is assigned to handle an insurance claim on behalf of socialite Sydney Everett. Hush Puppy, Sydney's champion show horse, has died unexpectedly, and attending veterinarian George Wells confides to Jack that the great horse's death was anything but natural.
---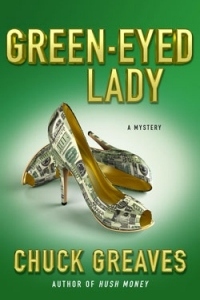 Green-Eyed Lady
(A Jack MacTaggart Mystery Book 2)
by Chuck Greaves

Three weeks before Election Day, Burkett comes to the aid of a beautiful green-eyed lady, only to find himself alone and naked in a stranger's home from which a painting is stolen.
---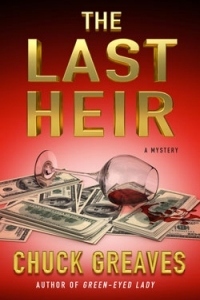 The Last Heir
(A Jack MacTaggart Mystery Book 3)
by Chuck Greaves

Philippe Giroux, estimable patriarch of the Château Giroux wine empire, has tragically lost a son. Or has he? Once confirmed by the court, Alain Giroux's death will pave the way for his brother Phil to inherit America's most storied winery. Or will it?
Authors N - Z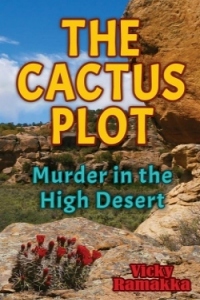 The Cactus Plot: Murder in the High Desert
by Vicky Ramakka

Hired by the Bureau of Land Management, Millie Whitehall travels to the harsh environment of northwest New Mexico's high desert. Driving treacherous roads and avoiding rattlesnakes become the least of her worries. What Millie expects to be a peaceful summer turns into a chaotic hunt for a ruthless killer.
---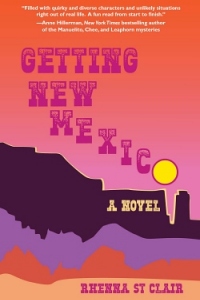 Getting New Mexico
by Rhenna St. Clair

Aaron Schuyler is a ne'er-do-well, a cheat, an exploiter, a drunk, and a lifelong New Yorker. New Mexico is about to change everything about Schuyler, in this fresh and witty comedy about second chances and redemption.
---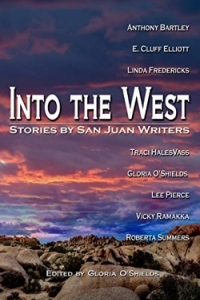 Into the West
San Juan Writers LLC

Venture Into the West with New Mexico writers. This collection of short stories and novelettes has accounts of the old west and episodes from today's west. One will encounter mystery, adventure, romance, humor, horror, and magical realism.
---
Fatal Winds
by Roberta Summers

Young physicist, Reese Mayfield, applies his genius to developing the first atomic bomb. The atom speaks and warns scientists of its power. Driven by the need to end the second world war, at 5:29.21 a.m. on July 16, 1945, "The Gadget," explodes and changes the world and Reese forever.
---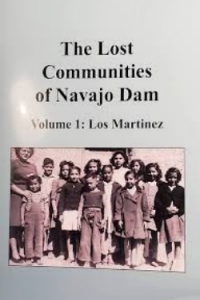 The Lost Communities of Navajo Dam
Volume 1: Los Martinez
by Patricia Brody Tharp

A book which details the communities and towns which were lost due to the construction of the Navajo Dam and reservoir.
---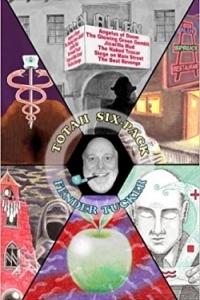 Totah Six-Pack: Tales of Farmington NM
By Fender Tucker

This collection of six stories about Farmington NM as it used to be was written in the early 21st century and it describes the town and its inhabitants as remembered by Fender Tucker, who lived there in the 50s and 60s. Old-timers may remember the geography and commerce of the town, but it's doubtful that they will have heard of the stories that Tucker tells, even though he swears that much of them is true. If you lived in Farmington in the 20th century, you should get this book, just for the nostalgia.
---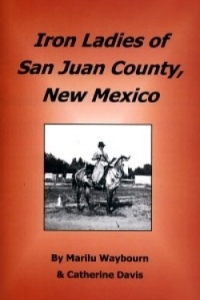 Iron Ladies Of San Juan County
by Marilu Waybourn & Catherine Davis

A book that covers some of the notable women of San Juan County, New Mexico. It goes into details on pioneer women who achieved a variety of accomplishments in a time when women were not expected to be in business or self-sufficient.
---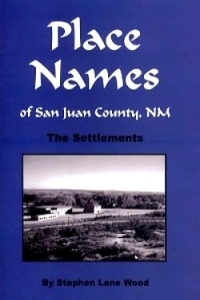 Place Names
by Stephen Lane Woods

A book which covers the settlements and how those places got their names in San Juan County, New Mexico.
---
More Books & History

Interested in more books on local Aztec or San Juan County?
Or submit your book order: