In the Spotlight
The event is on July 8th at Aztec Municipal Golf Course. $10 entry or a new unwrapped toy. More Information Here...
There are so many extraordinary things about Aztec. Locals and visitors alike boast about this intimate, river-runs-through-it community where the buzz is about fabulous events, top-shelf recreation, enviable climate, rich history and eclectic, small-town pleasures. Aztec fulfills the recreationalist, entices the cultured, beckons the explorer, and makes peaceful the nomadic. It's a town of close-knit neighbors, of pioneer-strong family values, of love of the land. This is Aztec: Your Four Corners Playground Since 1100 A.D.
Aztec Ruins National Monument
Centuries ago the Aztec Ruins were a central gathering place-a thriving cultural capital for ancestral Puebloans. Today, they're a World Heritage Site and a dazzling landmark to the roots of civilization. Tour the three-story, 450-room West Ruin. Explore the Great Kiva and marvel at 900-year-old roof timbers that shelter intact plaster rooms. Witness exquisite masonry before passing through mysterious T-shaped doorways. Mistakenly coined "Aztec" by others, the ancient Pueblo people lived and flourished at this very sacred and spiritual place.
➠ Aztec Ruins National Monument
Sandstone Arches
With over 300 documented natural arches and windows in the immediate area, Aztec underscores the ethereal, camera-prompting beauty of the American Southwest. Search out breathtaking Arch Rock in Hart Canyon, or visit the spectacular Anasazi Arch in Cox Canyon.
➠ Aztec Arches
Museum & Pioneer Village
The Aztec Museum complex houses one of the finest collections of authentic western Americana. History comes alive at the Pioneer Village, where young and old are bedazzled by the resolve and fortitude of our forefathers. Tour firsthand the doctor's and sheriff's offices, blacksmith and foundry, an 1880 pioneer cabin, general store and post office, and the Cedar Hill Church-all painstakingly reconstructed from the original buildings.
➠ Aztec Museum and Pioneer Village
Quality Waters
Flowing from Navajo Lake, the lower San Juan River is ranked among America's top-ten trout fishing waters. A 4.5-mile, nutrient-rich section below Navajo Dam is so spectacular for fishing that it has earned "Quality Waters" designation. (Special angling regulations are in effect.) Attracting sports enthusiasts the world over, the river further compels with multi-hued sandstone canyons and desert vistas.
➠ San Juan River Quality Waters
Mountain Biking
Aztec boasts over 30 miles of mountain bike trails, including the Alien Run, ranked among the more technically challenging and scenic single tracks in the Four Corners. Routed near an alleged UFO crash site, "the Alien Run" can be navigated by a novice yet is immensely challenging for experts.
➠ Alien Run Mountain Bike Trail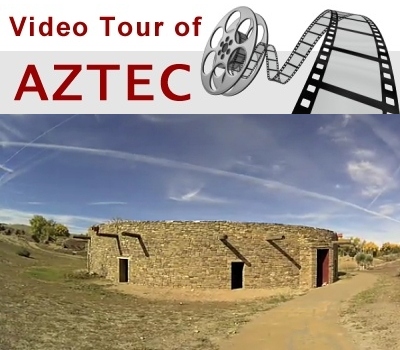 Other Fun Stuff
➠ Monthly Events (197 KB)
➠ Aztec Fun Map (2.1 MB)
➠ Directions to Visitor Center (137 KB)
➠ Stay & Play Brochure (1.6 MB)
Take Us Along on Your Mobile Device