Consisting of an approximate 100 mile highway drive, travelers encounter a surreal landscape of otherworldly red rock formations in this drive through the Navajo Nation and its capital, Window Rock. The route recalls the bloody history of Canyon de Chelly, visits a variety of Ancestral Puebloan ruins and travels through the lavish forested country of the Lukachukai Mountains.
Window Rock, AZ
Named after a particular rock formation, Window Rock functions as the capital of the Navajo Nation. Accommodations, restaurants and Native American arts and crafts are abundant here.
1. Navajo Nation Museum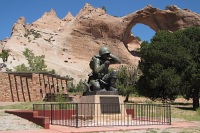 The Navajo Nation Museum is located in Window Rock and is dedicated to preserving and interpreting the rich and unique culture of the Navajo Nation.
Also worth visiting in Window Rock is the Veteran's Memorial Park and the Navajo Nation Zoo. The Veterans Memorial is located at the base of Window Rock and was built to honor the many Navajos who served in the U.S. military. The Navajo Zoo provides natural habitats for many animals which are native to the Navajo Nation.
Chinle, AZ
2. Canyon de Chelly National Monument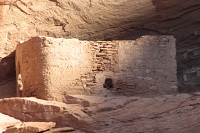 Sheltered at the base of sheer red cliffs and in canyon wall caves are cliff dwellings and villages built between 350-1300 A.D. by Ancestral Puebloans. Visitors learn about Native American history from the earliest basketmakers to Navajo Indians, who still live and farm in the canyon.