Open year-round, Ghost Ranch is an education and retreat center dedicated to spiritual development, peace and justice, honoring the environment and exploring family through the celebration of art, culture and nature. The landscape of Ghost Ranch was made famous by painter Georgia O'Keeffe whose first home is located on the ranch. People from all over the world come to work together in creation care, to paint, write poetry, to hike, ride horseback, to research globally renowned archaeological and fossil quarries or simply to rest and renew their spirits. Lodging and dining facilities are available, as well as a RV and tent campground.
If visiting for just the day and not taking any tours, there is a $5.00 conservation fee payable at the Welcome Center that allows guest access to hiking trails, labyrinth, the anthropology and paleontology museums, bathroom facilities, and campus grounds.
Florence Hawley Ellis Museum of Anthropology
The museum is named for the late Dr. Florence Hawley Ellis, long-time professor of anthropology at the University of New Mexico in Albuquerque and original curator of this museum. Dr. Ellis initiated and led Ghost Ranch archaeology seminar from 1971 until 1990.
Ruth Hall Museum of Paleontology
The museum is named for amateur paleontologist Ruth Hall, wife of first resident Ghost Ranch Director Jim Hall. Today the Museum of Paleontology houses not only the huge block of bones but also numerous exhibits, photographs and life-sized replicas of dinosaurs found on the Ranch.
Tours & Trail Rides
Ghost Ranch offers numerous tours and trail rides! Examples of tours include:
• Archaeology of Ghost Ranch Tour
• Georgia O'Keeffe Landscape Trail Ride
• Paleontology of Ghost Ranch Tour
• Walk in Georgia O'Keeffe's Footsteps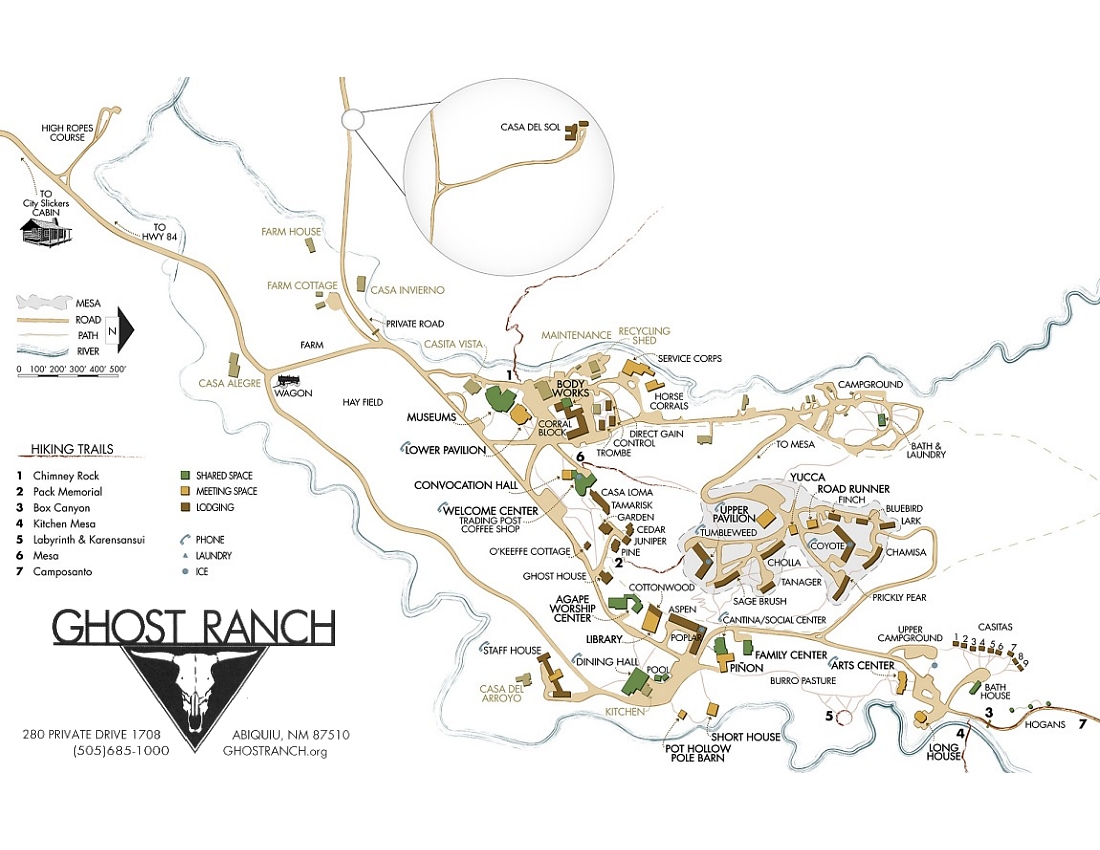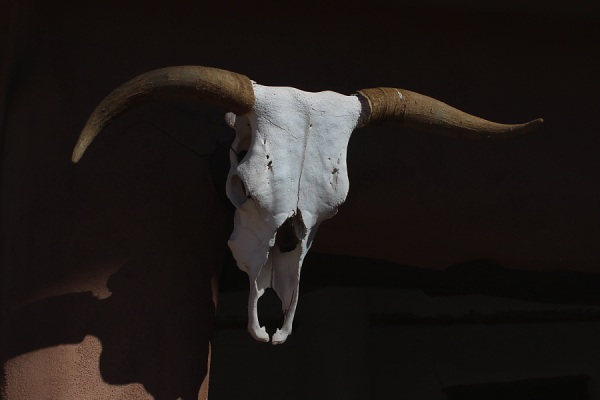 Florence Hawley Ellis Museum of Anthropology
Artifacts: Bandelier Black-on-white pottery and bone tools.

San Ildefonso Black-on-black vessels by maria & Julian Martinez.

Santero de Ghost Ranch, carvings by Max Roybal (1912-1995).
Ruth Hall Museum of Paleontology
Cast of Coelophysis skeleton collected at Ghost Ranch in 1947.

Artist rendition of Coelophysis (New Mexico State Dinosaur).

Cast skeleton of an archosaurs.

Photos by EMKotyk