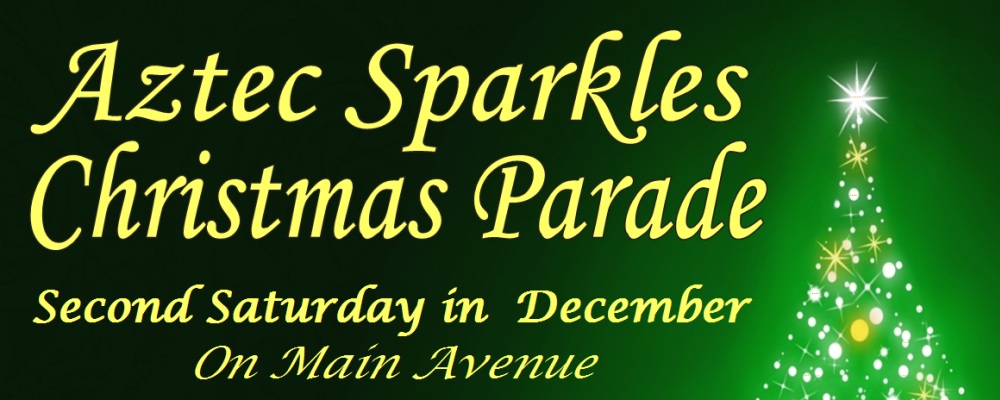 Christmas is a time of love and joy, a time for giving and sharing, a time for making cherished memories that last for generations. In Aztec we express this through the Aztec Sparkles Christmas Festival. Downtown Aztec is lit up for a community celebration of the holidays through activities and music.
Preparations of for the festivities begin before Thanksgiving, whereby City employees begin decorating Main Avenue and U.S. 516 & 550 with lights and ornaments. Businesses and residents participate as well by participating in the lighting contest which is held through the entire month of December.
Friday - Dec 6th
The festival starts with the annual River Glo at Riverside Park on Friday night. This walk along the luminaria lit sidewalk along the Animas River starts at 6:00 pm. Enjoy the live nativity, christmas carolers, hot cocoa & cider, popcorn & cookies.
Starting at 6:30 pm, the Aztec Ruins National Monument presents its annual Evening of Lights program. Highlighted by a spectacular lantern display in the Ancestral Puebloan ruins, the event includes cultural demonstrations, free cookies and hot cocoa, and the opportunity to purchase gifts at the park store. Photography is encouraged, jackets are suggested, and park visitors will be admitted free!
Saturday - Dec 7th
Festivities continue on into Saturday which begins with the Santa Dash at 10:00 am on Main and runs to Aztec Ruins. Live music broadcasts throughout the downtown that day and many stores and vendors are offering special deals for that holiday shopper. There will be cookie decorating and face painting within the Main Plaza, Petting Zoo at Aztec Feed & Supply, Kids Carnival and Bounce House at High Desert Community Credit Union. Antique Tractor Hay Rides from Aztec Feed & Supply from noon to 5:00 pm. And don't forget to visit Santa at Santa Village in the Main Plaza from 10:00 to 4:00 pm.
Aztec Sparkles Parade
at 6:00 pm whereby over 30 participating organizations and decorated floats travel down Main Avenue for the publics' enjoyment. Don't miss Santa Claus. The evening ends with festivities in Minium Park, including the Christmas Tree Lighting, music by AHS Trumpeters and San Juan College Orchestra, and free cookies and hot cocoa.
Share this page